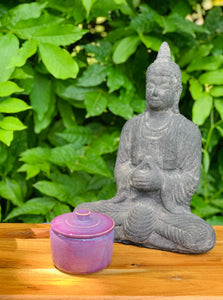 Kinyo Pottery Jar Candle with Lid - Crystal Free 
170ML Candle Wood Wick
4.8cm x D7.5cm Jar
D7cm Lid
Bays & Leo small batch & hand poured, Plant Based Soy Wax Candles. Phthalate free fragrance. Safe in your home, carefully curated with a 10% fragrance load to ensure the scent throw is gorgeous & strong.
Sai Pottery with Plant Based Soy Wax.  
Sai Pottery is a high quality, hand made ceramic.  Food Safe & Dishwasher Safe, but please re-use mindfully. Enjoy the beauty after the life of your candle.

Bays & Leo tip - Leave candles in the sunny areas of your home during the day, our candles love to be warm & will leave a divine scent throw without lighting it.
Candle Care - Burn a new candle for 1 hour per 2.5cm (1inch) in diameter. This will make sure the initial burn is long enough to melt the candle all the way to the edge, also known as 'setting the memory' of the candle. After that, burn for 4 hours maximum at a time to ensure you get the longest life from your candle.

Each candle is packaged to our best & each are hand poured. Each may have their own imperfections but leave Bays & Leo in the best condition. If freight damages may occur & within reasonable damage a refund with return may be applicable.


We wish you to enjoy every moment with your Bays & Leo experience - contact us on email - baysandleo@gmail.com