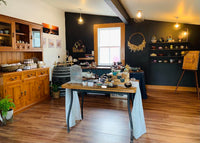 Visit Our Pop-Up Shop!
At 87A Main Street Greytown, Wairarapa.
Open: Thursday to Sunday
Supporting New Zealand Artisans 💚
Alongside our scented soy candles, in unique ceramic vessels, we're proud to feature a curated selection of treasures created by talented New Zealand artisans. Come and discover the art of conscious gifting, we look forward to meeting you!
Our Soy Wax Candles
Bays & Leo create a range of beautiful soy wax candles. Set in gorgeous Sai Pottery - handmade ceramics, the candles are embellished with keepsake crystals & gemstones.
Every candle is unique & not one product is the same. The perfect gift for friends, family - or even for yourself!
Flat Rate New Zealand Shipping $4.99
FREE LOCAL WAIRARAPA DELIVERY
Gift & Greeting Cards
Discover regionally-themed greeting cards, featuring Wellington and Wairarapa locations, to make a great gift-accompaniment to our ceramic and pottery candles. These stunning cards are designed in block colour and truly stand out from the crowd.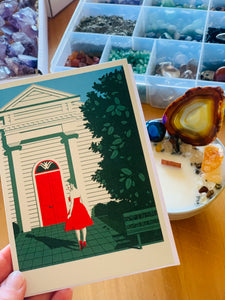 New Zealand's Finest: Our Artisan Brand Collection
CUSTOMER REVIEWS
Amazing candle & amazing service from Bays & Leo. I was worried how my candle would handle postage, but it was so well packaged it arrived perfect & quickly! And the candle is devine!

Rosemary Dunn
I love my bespoke candle. From the beautiful pottery vessel I get to reuse, the devine fragrance, the crackle of the wood wicks to the shiny gemstones, the whole lot is just beautiful

Lisa Hallam
We've had your candle burning at night for a few weeks now (OMG the wooden wick is something else!). Nothing like walking into the house with the smell of tarragon roast chicken and the romance scent (ooh la laa). We're almost due a refill. We have heaps of candles and melts but this is our fave go to!

Karene Lamond
Recommend I love love my Bays & Leo candles 🔥 The smell is divine!

Aleishia Edwards
Highly Recommend!

It was so easy to order some bespoke candles for my two nieces. Which were delivered to the door, on their birthday! Unique in every way!Love, love, love them!

Teri Gibson
Amazing! High recommend. They're the best smelling candle I have ever had!💓

Nadia Read
My clients loved their candle I purchased from Bays and Leo as their wedding gift, that was scented with Amalfi Coast. It was a lovely memory of their holiday they booked through me a few years ago.

Ksenia Ptilidi - Travel Agent
Bays & Leo Featured in Dairy Farmer, New ZEaland
A Crystal Clear Dream
"When the opportunity came knocking at the right time, a Wairarapa dairy farmer didn't hesitate to open the door." - article by Cheyenne Nicholson